The Little Book of Tea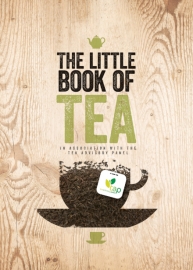 Tea is the most consumed drink in the world, after water, but offers many more benefits than just being a refreshing beverage. Studies have linked regular tea drinking – both black and green teas – with benefits for heart health, cancer prevention, oral health and cognitive function. The major active substances in tea are believed to be flavonoids – plant compounds from the polyphenol family – which are also found in different forms in fruits, vegetables, cocoa and red wine. Two other substances – caffeine and L-theanine (an amino acid)– are thought to contribute to tea's effects on mental performance and mood.
This Little Book published by the Tea Advisory Panel brings together reviews of these studies published in recent years by the Tea Advisory Panel (TAP). It also provides additional information about how tea is used in the UK and offers tips for health and wellness.