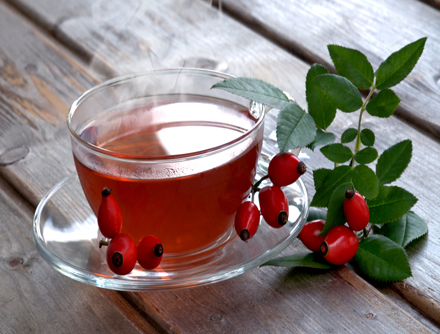 Rosehip Tea
(Rosa canina L., Rosa rubiginosa L. and Rosa rugosa Thunb.)
Background:
Rosehips which are the round part of the flower, just below the rose, have always been prized for their vitamin C content, although much of the vitamin is actually lost during drying. Rosehips also contain a range of health promoting polyphenols.
References
1 http://naturaldatabaseconsumer.therapeuticresearch.com/
2 Cohen M. Rosehip - an evidence based herbal medicine for inflammation and arthritis. Aust Fam Physician. 2012 Jul;41(7):495-8.
3 Christensen R, Bartels EM, Altman RD et al. Does the hip powder of Rosa canina (rosehip) reduce pain in osteoarthritis patients?--a meta-analysis of randomized controlled trials. Osteoarthritis Cartilage. 2008 Sep;16(9):965-72.
4 Andersson U, Berger K, Högberg A et al. Effects of rose hip intake on risk markers of type 2 diabetes and cardiovascular disease: a randomized, double-blind, cross-over investigation in obese persons. Eur J Clin Nutr. 2012 May;66(5):585-90.