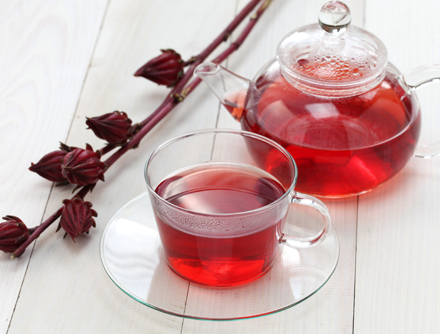 Hibiscus Tea
(Hibiscus sabdariffa L.)
Background:
There are several hundred species of hibiscus, a bushy annual plant in the mallow family, but the tea is made from the crimson or deep magenta-coloured calyces (sepals) of the Hibiscus sabdariffa flower.

References
1 Herrera-Arellano A, Flores-Romero S, Chávez-Soto MA, Tortoriello J. Effectiveness and tolerability of a standardized extract from Hibiscus sabdariffa in patients with mild to moderate hypertension: a controlled and randomized clinical trial. Phytomedicine. 2004 Jul; 11(5):375-82.
2 Herrera-Arellano A, Miranda-Sánchez J, Avila-Castro P et al. Clinical effects produced by a standardized herbal medicinal product of Hibiscus sabdariffa on patients with hypertension. A randomized, double-blind, lisinopril-controlled clinical trial. Planta Med. 2007 Jan;73(1):6-12.
3 Mozaffari-Khosravi H, Jalali-Khanabadi BA, Afkhami-Ardekani M et al. The effects of sour tea (Hibiscus sabdariffa) on hypertension in patients with type II diabetes. J Hum Hypertens. 2009 Jan;23(1):48-54
4 McKay DL, Chen CY, Saltzman E, Blumberg JB. Hibiscus sabdariffa L. tea (tisane) lowers blood pressure in prehypertensive and mildly hypertensive adults. J Nutr. 2010 Feb;140(2):298-303
5 Mozaffari-Khosravi H, Jalali-Khanabadi BA, Afkhami-Ardekani M et al. The effects of sour tea (Hibiscus sabdariffa) on hypertension in patients with type II diabetes. J Hum Hypertens. 2009 Jan;23(1):48-54
6 McKay DL, Chen CY, Saltzman E, Blumberg JB. Hibiscus sabdariffa L. tea (tisane) lowers blood pressure in prehypertensive and mildly hypertensive adults. J Nutr. 2010 Feb;140(2):298-303