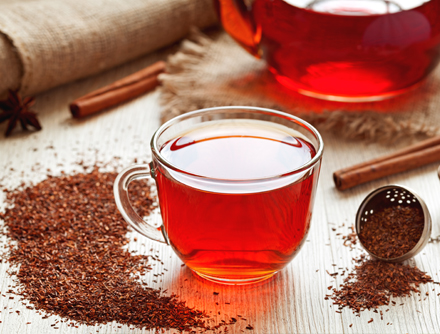 Rooibos (Red Bush)
(Aspalathus linearis)
Background:
Red bush tea comes from the leaves of the Rooibos shrub which has needle-like leaves and is a member of the legume, or pea, family and native to the mountain slopes of western Cape Province, South Africa.1 The leaves are cut and aerated and used to make a tisane called Rooibos or red bush tea.
Red bush tea is caffeine free, low in tannin, high in vitamin C and bursting with antioxidants and other healthful plant compounds. It has been popular in southern Africa for generations and is now enjoyed around the world. Rooibos is brewed in the same manner as black tea and can be drunk with milk and sugar to taste, or with a slice of lemon and sweetened with honey.
References
1 Standley L, Winterton P, Marnewick JL et al. Influence of processing stages on antimutagenic and antioxidant potentials of rooibos tea. J Agric Food Chem. 2001;49(1):114-7.
2 Joubert E, Gelderblom WC, Louw A, de Beer D. South African herbal teas: Aspalathus linearis, Cyclopia spp. and Athrixia phylicoides--a review. J Ethnopharmacol. 2008 Oct 28;119(3):376-412.
3 https://www.redbushtea.com/pdfs/redbush_research_papers/paper_8.pdf
4 http://www.ncbi.nlm.nih.gov/pubmed/7681534
5 http://www.sciencedirect.com/science/article/pii/S1383571807001234
6 Marnewick JL, Rautenbach F, Venter I et al. Effects of rooibos (Aspalathus linearis) on oxidative stress and biochemical parameters in adults at risk for cardiovascular disease. J Ethnopharmacol. 2011 Jan 7;133(1):46-52.
7 Bramati L, Minoggio M, Gardana C et al. Quantitative characterization of flavonoid compounds in Rooibos tea (Aspalathus linearis) by LC-UV/DAD. J Agric Food Chem. 2002 Sep 25;50(20):5513-9.
8 Kondo M, Hirano Y, Nishio M et al. Xanthine oxidase inhibitory activity and hypouricemic effect of aspalathin from unfermented rooibos. J Food Sci. 2013 Dec;78(12):H1935-9.