Media Centre
Brew Knew That?
Posted date:

23rd Aug '18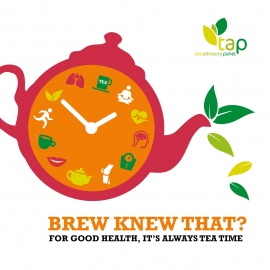 BREW KNEW THAT? For Journalists Only
If you exclude water, the world's favourite drink, by far, is tea. Its global appeal is underlined by the words we use to describe this universal beverage. In countries where the beautiful brew tea arrived from China via the sea, it is usually known as tea or té while in those where it came across Asia by land, it is most often called cha or chai. But whatever word we use to describe it, tea not only tastes great, it's good for our wellbeing, too. The comedian and author David Walliams once joked: "In Britain, a cup of tea is the answer to every problem." For journalists wanting to know the truth to this quip, The Tea Advisory Panel has authored 'BREW KNEW THAT'? which is packed with research, study reviews to stats and facts on tea.
Journalists can request a copy of 'BREW KNEW THAT' from nicky@junglecatsolutions.com.