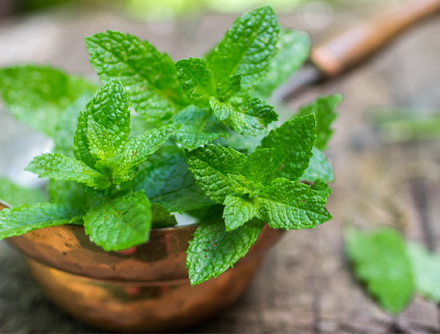 Spearmint Tea
(Mentha spicata L.)
Background:
Although it has a very similar aroma to peppermint, and shares many of the same digestive properties, spearmint contains a slightly different balance of plant chemicals. Spearmint has less menthol than peppermint, but is rich in phyto (plant) chemicals such as limonene, dihydrocarvone and cineol.1

Health properties:
Mint kills some types of bacteria, fungus, and viruses, suggesting it may have antibacterial, antifungal, and antiviral properties.2,3 The Journal of Chemistry reports that spearmint extract exhibits "excellent antioxidant activity."4
A 2007 study published in Phytotherapy Research found drinking two cups of spearmint tea a day for five days lowers levels of androgens associated with excessive hair in women, offering potential help to women with mild symptoms of hirsutism.
References
1 http://www.medicalnewstoday.com/articles/266128.php
2 University of Maryland Medical Centre
3 http://www.ipcbee.com/vol15/10-U00041.pdf
4 http://www.medicalnewstoday.com/articles/266128.php