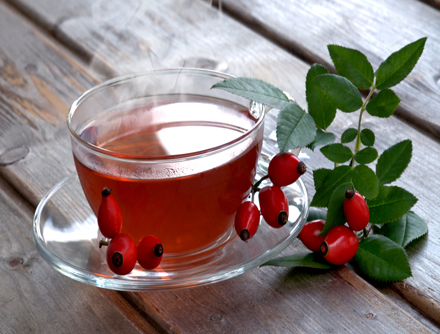 Rosehip Tea
(Rosa canina L., Rosa rubiginosa L. and Rosa rugosa Thunb.)
Background:
Rosehips which are the round part of the flower, just below the rose, have always been prized for their vitamin C content, although much of the vitamin is actually lost during drying. Rosehips also contain a range of health promoting polyphenols.
Health properties:
Traditionally, rosehip infusion is used to treat minor stomach complaints such as spasms, stomach acid deficiency, preventing stomach irritation, and as a "stomach tonic".
Traditionally, rosehips are also used for diarrhoea, constipation, gallstones, gallbladder ailments, lower urinary tract and kidney disorders, fluid retention (dropsy or oedema), gout, back and leg pain (sciatica), diabetes, high cholesterol, weight loss, high blood pressure, chest ailments, fever, increasing immune function during exhaustion, increasing blood flow in the limbs, increasing urine flow and quenching thirst.1
Rosehip is emerging as a useful counter to arthritic pain. A meta-analysis of three randomised controlled trials involving 287 patients with an average treatment period of three months reported that treatment with standardised Rosehip powder consistently reduced pain scores and that patients allocated to Rosehip powder were twice as likely to respond to Rosehip compared to placebo.2 A further meta-analysis of three controlled trials in patients with osteoarthritis found that Rosehip powder reduced pain compared to placebo.3
Rosehip has apparent heart benefits. A study from Lund University in Sweden in4 31 obese men and women found that after 6 weeks on Rosehip drink, blood pressure fell by an average of 3.4%, a small but significant decline; total cholesterol levels dropped by almost 5%. There was an even bigger drop - 6% - in LDL cholesterol, the 'bad' type of blood fat linked to increased risk of heart disease. The researchers estimated that the drop in cholesterol and blood pressure combined would reduce the risk of heart disease in obese patients by 17%.
References
1 http://naturaldatabaseconsumer.therapeuticresearch.com/
2 Cohen M. Rosehip - an evidence based herbal medicine for inflammation and arthritis. Aust Fam Physician. 2012 Jul;41(7):495-8.
3 Christensen R, Bartels EM, Altman RD et al. Does the hip powder of Rosa canina (rosehip) reduce pain in osteoarthritis patients?--a meta-analysis of randomized controlled trials. Osteoarthritis Cartilage. 2008 Sep;16(9):965-72.
4 Andersson U, Berger K, Högberg A et al. Effects of rose hip intake on risk markers of type 2 diabetes and cardiovascular disease: a randomized, double-blind, cross-over investigation in obese persons. Eur J Clin Nutr. 2012 May;66(5):585-90.