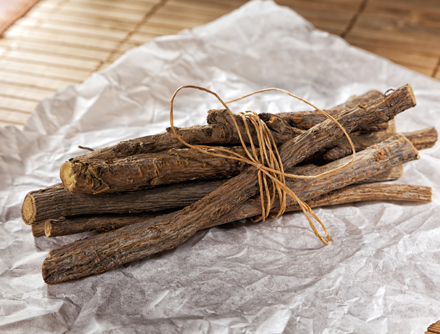 Liquorice Tea
(Glycyrrhiza glabra L.)
Background:
Liquorice is a member of the legume family which is native to southern Europe, India and parts of Asia. Although its distinctive flavour is similar to that of anise or fennel the plants are not related botanically, but some products described as liquorice have been found to contain anise, instead.1,2 Liquorice tea is made from the root and stolon.
Health properties:
Liquorice is anti-inflammatory, antiviral, antimicrobial, antioxidative and immunodulatory.3
Liquorice is a demulcent, relieves irritation and creates a soothing film over the mucous membrane, which explains its popularity for digestive system complaints including stomach ulcers, heartburn, colic, and chronic gastritis.4,5
Liquorice is used to help treat sore throats, bronchitis, cough, and infections caused by bacteria or viruses.
It also inhibits inflammation which supports its traditional use for osteoarthritis and lupus.6 Steroids are known to suppress adrenal function but liquorice has been shown to improve adrenal function in people who have taken steroid drugs long-term.7
References
1 Liquorice - Wikipedia, the free encyclopedia
2 http://www.nlm.nih.gov/medlineplus/druginfo/natural/881.html
3 https://www.ncbi.nlm.nih.gov/pubmed/18446848
4 https://www.ncbi.nlm.nih.gov/pubmed/8783808
5 http://www.ncbi.nlm.nih.gov/pubmed/25032255
6 http://www.ncbi.nlm.nih.gov/pubmed/17462578
7 http://www.nlm.nih.gov/medlineplus/druginfo/natural/881.html