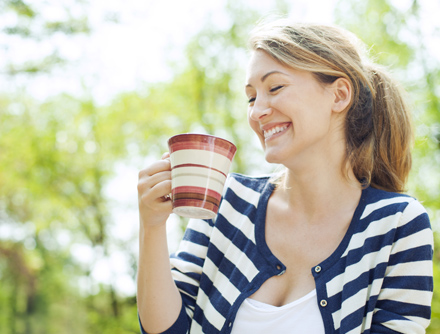 Tea & Health
This area of the website covers a variety of health related information about tea.
Research
The Tea Advisory Panel publishes reviews and reports on black tea and health and also sponsors various research papers and studies. More information >>
Health Facts
TAP is dedicated to bringing you the facts about how tea, the world's favourite drink, can help you maintain your health as part of a balanced diet and healthy, active lifestyle. More information >>
FAQ's
TAP sets the record straight on 'science' myths associated with black tea. More information >>
Did you know?
Approximately 40% of the nation's fluid intake today will be tea
Tea without milk has no calories. Using semi-skimmed milk adds around 13 calories per cup, but you also benefit from valuable minerals and calcium.
Four cups of tea with milk provides 21% of daily calcium requirement.
Tea is a source of the minerals manganese, essential for bone growth and body development, and potassium, vital for maintaining body fluid levels.
The average cup of tea contains less than half the level of caffeine than coffee. One cup contains only 50mg per 190ml cup.
Tea is a natural source of fluoride and drinking four cups makes a significant contribution to your daily intake. (Only 11% of UK water supply has fluoride added.)
Green and black teas are from the same plant, Camelia sinensis, and contain similar amounts of antioxidants and caffeine.